Imagine yourself floating through Europe like royalty: Relaxing on a picture-perfect barge, lollygagging down a winding, scenic river, with a quenching drink in hand, and soothing music in the background. Conjuring up that mental photo is a snap when you're on board an A-Rosa river cruise. To the staff, you are royalty!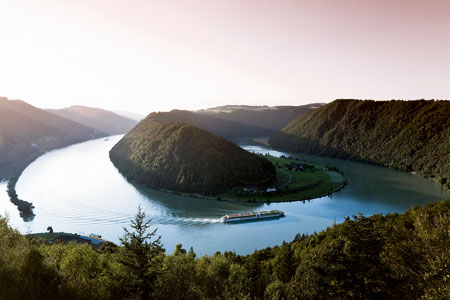 The German-based A-Rosa company operates ten stunning river-cruising vessels and dispatches them to the most enchanting river-rich regions of Europe. The company is, in fact, the leading river-cruising organization offering luxurious, all-inclusive itineraries on the Danube, Rhone, Saone, Rhine, Main, and Mosel Rivers. Three beautiful (and very intimate) vessels—the Silva, the Aqua, and the Stella—all ply Europe's most picturesque ports, and do it with continental élan. All three ships carry 202 or fewer people and are about 450 feet long—a very navigable length—so the experience is like traveling casually with friendly family on a private yacht.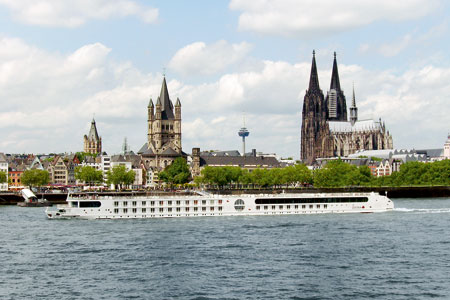 Under the management of the David Morris International firm, the A-Rosa ships specialize in making your river cruise the most memorable and satisfying experience possible. And I can vouch for that, having sailed on a special Christmas-market cruise this past December. In just a few short days, I savored the ambience of the Silva (built in 2012, she's a brand-new vessel), and experienced what it must be like to sail for a week or two on my own, proprietary craft. (Trust me, you'll want to go back after your first A-Rosa cruise, just as I do!) Gliding through heartbreakingly rich scenery, as we made our way through the Black Forest, I felt as if I could just reach out and touch the shore...in some places, navigating through the narrow canals, one actually could reach out and touch the canal walls (not advisable!), and so your perspective is entirely different, say, from touring in a car or train.
On a river boat, you can truly get up close and personal with the landscape. I was particularly struck by the majesty of being so near to the magisterial vegetation in the Black Forest, and as I was staring at the snow-covered clusters of trees, I fully expected Little Red Riding Hood to emerge from the dense landscape and say Guten Morgen!
River-cruising is not terribly dissimilar from sailing on the high seas, but it's a far homier, cozier experience. You have the opportunity to check out a new city almost daily, and on a David Morris-designed trip, you do not pay for those day excursions, a truly amazing add-on, as any cruise devotee will acknowledge, since the tariffs for day excursions can really add up. But here you have the option, depending on where the ship docks, to walk or take a shuttle bus into town, or opt for one of several excursion to explore, say, the famous courthouses of Nuremberg or the churches of Regensburg.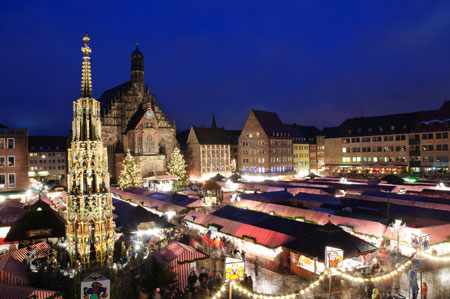 Experiencing the Christmas markets—Nuremberg is considered the great grand-daddy of them all, and has been in operation for over 400 years—is in itself a rare treat. Christkindlesmarkt on Hauptmarkt Square in the old quarter of Nuremberg (pictured above) is the destination for over two million people annually, and this past year, I considered myself fortunate to be there. There are over 200 stalls to visit, but you must do so, with the traditional hot mulled wine—the Glühwein—in hand, in a souvenir mug. And as you meander around the town square, you'll find everything from traditional spicy gingerbread, fruit loaves, and other traditional baked goods, to Christmas decorations, children's toys, handmade stuffed animals, candles, and countless native crafts for sale.
I got to see the Nuremberg market on "opening night," such as it were, when the evening's festivities and official ceremony were capped off by the angelic voices of a local boys' choir, singing Stille Nacht in the darkened town square. And with the official "lighting of the tree" and the illumination of all the decorations, I shed a tear at the sheer beauty and pageantry of it all, as the spire of the seven-hundred-year-old Church of Our Lady gleamed and beckoned.
The Christmas market cruises are very special and it's not too early to reserve a space for December, 2013, so you get to see a cross-section of Europe's many markets. For example, on the Silva's December 3rd Rhine Christmas Market tour, you'll spend eight nights afloat, enjoying the itinerary, which includes Frankfurt, Speyer, Kehl/Strasbourg, Mainz, Cologne, Koblenz, and Rüdesheim. Prices start at about $5,200 per person—including air fare from North America—for this journey and include all meals (and more about that in a minute), a fine selection of wines, day excursions, and just about everything, save massages in the spa if you opt for more indulgence.
And if all the possible sightseeing isn't enough to keep you busy and content, there are daily activities on board that can range from a workout in the gym or a fitness class, trivia games and group activities, chocolate- or wine-tasting, morning yoga on the upper, outdoor deck in the glorious summer weather, and on and on. The staff will perform cartwheels to make you happy, but for me, the nicest pastime is watching the transforming scenery, with a good book in my hands, and a hot toddy (winter) or a fancy umbrella drink (summer) handy.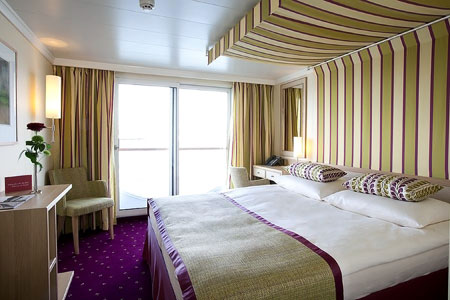 State rooms are well designed with plenty of space for clothing, cosmetics, and gear. But you won't want to spend much time in your cabin, not when there are buffets and gourmet feasts to be had on the dining deck. A classic dinner might be a profiterole with duck liver pate and pink pepper; beef tartar with Waldorf salad, shallot tart, and mushroom chippings; fregola sarda with scampi bouillabaisse; beef tenderloin with red wine sauce, white onion puree, and fondant potatoes; and topped off with a chocolate Savarin, with crème patissière and passion fruit.
Luncheons are served buffet style, and here's a paragraph-long rundown of a typical spread (believe me, you won't know where to start, and where to end!). Starters might include: terrine of Harlekin quail with Cumberland sauce, cep tiramisu, and fresh salad buffet. Soup: lobster bisque with homemade croutons and fresh herbs. Main courses: Beef tenderloin Rossini with truffle sauce; grilled king prawns with garlic, chili, and thyme; medium-roasted venison with cherry sauce, Brussels sprouts, and potato mousseline and celeriac; fried monkfish fillet, with light garlic sauce, baby spinach, and wild rice; picata of oyster mushrooms on ratatouille; boiled beef in horseradish cream sauce, and bouillon vegetables; Iberico pork with gravy, creamy Savoy cabbage, and macaire potatoes; eggplant in coconut milk and bami goring. Desserts: mousse of calvados with apple coulis and wafers; mousse of champagne with grape confit; and crêpes with assorted toppings. WOW! That was a mouthful. And you will feel that way, too, that you have completely sated yourself at each meal. But, it will be soooo worth it!
If you're still energetic at night, there is dancing, entertainment, and various activities to keep you going in the lounge/bar area...and after burning out all your cylinders, then hie thee to sleep, because the next day will bring yet another wonderful city and more escapades ashore.
Brava to A-Rosa and David Morris for making such grand tours available to us! www.arosacruises.com; 855-55-AROSA (855-552-7672).