The mighty Metropolitan Opera, which first raised its gold curtain with Gounod's good old Faust in 1883, is hardly younger than springtime. This spring, however, the company ventures some reasonably youthful excursions that rectify neglect, embrace a Baroque rarity and acknowledge 20th-century achievement. Though good old Faust lingers on, there is more to the lyric muse at Lincoln Center than predictable perennials.

Francesca da Rimini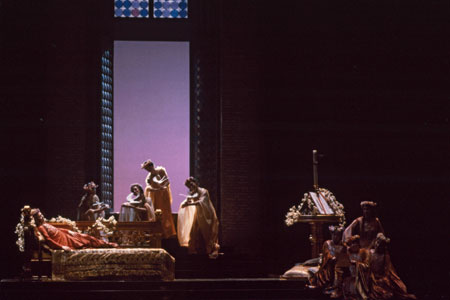 Riccardo Zandonai's romantic, sentimental, unabashedly melodic and essentially amoral tragedy, Francesca da Rimini, was written in 1914. The libretto, derived from Gabriele D'Annunzio's historic play, evolved from nothing less lofty than Dante's Inferno. Although the opera was initially hailed as a masterpiece, it has been revived only sporadically. The Met introduced it in 1917 and 1918, then ignored it until 1984. The last performances here took place in 1986.
Essentially a vehicle for an exceptionally gutsy singing-actress, Francesca has been portrayed until now by only three sopranos at the Met. The legendary Frances Alda served as central extrovert in the first 11 performances. She was ultimately succeeded in the 1980s by Renata Scotto, who dominated 22 performances, to be spelled on four occasions by her apparent "cover," Nicole Lorange. Now it is Eva-Maria Westbroek's turn.
Noted for her expressive passion, theatrical daring and vocal allure, the Dutch soprano made her Met debut as Sieglinde in Wagner's Die Walküre in 2011. Fond of undertaking unconventional challenges, she drew international attention that same year playing Anna Nicole Smith in Mark-Anthony Turnage's steamily controversial Anna Nicole at the Royal Opera in London.
In Francesca da Rimini, she shares the heroine's poignant plight and eventual doom with the ardent tenor Marcello Giordani. (Scotto's partner had been Plácido Domingo.) Marco Armiliato conducts. The ultratraditional, authentically Italianate production, now 29 years old, was originally directed by Piero Faggioni and designed by Ezio Frigerio.

Giulio Cesare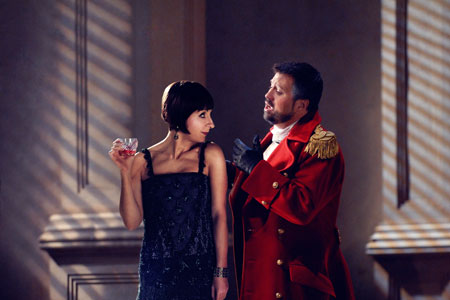 Natalie Dessay as Cleopatra and David Daniels as Caesar in Handel's "Giulio Cesare. Photo: Dan Rest/Lyric Opera of Chicago; Dessay photo: Nick Heavican
The statistics are telling. Handel wrote Giulio Cesare, his liberal ode to Julius Caesar, in 1724. Actually, the original, more restrictive title of the opera was Giulio Cesare in Egitto (Julius Caesar in Egypt). New York got to know the work, or an unreasonable facsimile thereof, in 1966, when it marked the move of the New York City Opera from the shabby City Center to the glamourous New York State Theater – a move recently, sadly, rescinded amid financial and managerial debacles. Beverly Sills won all hearts as Cleopatra, making the queen a telling foil for the charismatic Caesar of Norman Treigle. Hardly anyone cared at the time that the protagonist's music, intended for a castrato, was literally downscaled for a bass.
The Met finally caught up, with a rather dull and drab staging in 1988. Caesar's music was assigned to Tatiana Troyanos, a fine mezzo-soprano. Now comes a fanciful new production via the Glyndebourne Festival in Sussex, England, where it was devised by David McVicar in 2005.
The action scheme still concerns Caesar's travels in Egypt during 48-47 BC. The characters remain essentially historical, exotic alterations notwithstanding. But the director plays loose with matters of period, tone and psychology. The narrative suggests references to the Iraq war. The Roman empire looks rather British, and a chorus of typewriters complements the continuo in at least one recitative. An emphatically modern, eternally sexy Cleopatra models, at one point or another, a flapper gown, snazzy riding gear, and cocktail-party slink, not to mention an 18th-century hoop. Such was the case, at any rate, at adventurous Glyndebourne.
Covering a 2009 revival for the Guardian, the critic Martin Kettle reported that "McVicar has never done anything more poised than this witty, sexy and tragic post-colonial framing of Handel's Caesar and Cleopatra tale."
Castratos being a happily extinct species and female Caesars being out of favor, the Met has cast David Daniels, the renowned countertenor, as Caesar. The erotic wiles and florid flights of Cleopatra are assigned to the beguiling French soprano Natalie Dessay. In addition to Sills, her most illustrious predecessors in the coveted role include such disparate prima-donna paragons as Lisa della Casa, Joan Sutherland, Evelyn Lear and Montserrat Caballé. Harry Bicket, a non-dogmatic early-music specialist, presides in the pit.

Dialogues des Carmélites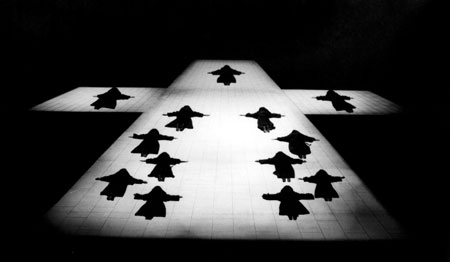 A scene from Francis Poulenc's "Dialogues Des Carmélites." Photo: Metropolitan Opera Archives
Francis Poulenc's Dialogues des Carmélites, written in 1957, is a poignant evocation of religious obsession, political brutality and the crisis of faith. The inherent conflicts involve the plight, spiritual, moral and physical, of Carmelite nuns in the shadow of the Revolutionary guillotine. Few scenes in opera can be more wrenching than the final episode in which the martyrs calmly chant the Salve regina, their voices reduced, one at a time, as each woman reaches the scaffold.
The classic Met production, staged by John Dexter and designed by David Reppa in 1977, was last seen in 2002. It dares to play all the action on a virtually empty stage. The raked floor, marked by a gigantic cruciform, accommodates minimal props. The setting is poetically bleak, the crucial lighting scheme by Gil Wechsler subtle.
The composer wanted his philosophical exchanges to be delivered in the language of the audience, and so they were at the Met premiere. Subsequently, with the advent of title translations projected on screens at every seat, the company reverted to the original French.
Significantly and unnecessarily, Poulenc once apologized for his conservative idiom. "It seems," he wrote, "that my Carmelites can only sing tonal music. You must forgive them."
The Met revival, scheduled for only three performances at the close of the season, again features the radiant Patricia Racette as Blanche de la Force. Cherished for ignoring Grand Guignol excess, Felicity Palmer returns to the harrowing duties of the old Prioress. Promising newcomers in the mostly female ensemble are Isabel Leonard, Erin Morley and Elizabeth Bishop. Louis Langrée, a longtime specialist in Gallic music, conducts. This should be the Met at its best.
Pulitzer Prize winner Martin Bernheimer covers music in New York for the Financial Times. His last piece in Promenade was on the Met's new Rigoletto.