After 16 years with MAD, its chief curator emeritus, David McFadden, has assembled a show of 70 works of sculpture, jewelry, ceramics, furniture, textiles, and other media, many never displayed.
Given their complexity, museum exhibitions can easily take a year or two, or even more, to organize. So, how long did it take David McFadden, the chief curator emeritus of the Museum of Arts and Design, to sift through more than 2,000 objects for Re: Collection, the show of 70 works of sculpture, jewelry, ceramics, furniture, textiles and other media that's up through September 7.
"Sixteen years," quipped McFadden, who retired December 31 after 16 years with the museum.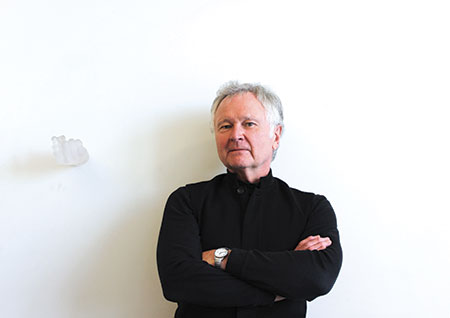 Chief Curator Emeritus David McFadden. Courtesy of the Museum of Arts and Design. Photo: Allison Underwood

In reality, he said, it took a year, working in conjunction with his longtime colleague, the former exhibitions curator Dorothy Twining Globus, another recent retiree who served as the designer of this installation.
McFadden's joke wasn't really that far-fetched: During his years with the museum, its permanent collection grew from 800 to more than 3,000 objects. The idea behind Re: Collection, he said, "was to use what had been acquired during the last 16 years." Often, he said, these objects have never been put on display.
"It happens more often than one realizes," he continued. When objects are not needed for an upcoming show, "they go into storage," where they may languish until just the right moment occurs for their museum debut.
And this is the moment. For one thing, the exhibition, in its variety of mediums and artists, both famous and unknown, aims to show how the museum has broken down what McFadden called the "traditional hierarchies" between art, craft, and design. "They merge into a kind of circular relationship in the show," he said. So, for example, bamboo, a material used for utilitarian purposes in Japan, has been turned by artist Syoryu Honda into a purely sculptural form, pleated and wrapped and seeming to swirl before our eyes. The debased, so to speak, has become the revered.
As its title punningly suggests, Re: Collection also involves memory, though not just the curator's. "It's memory of the artist in many cases," McFadden said. "A number of works are diary pieces," he said, in which artists recall significant events in their lives.
Witness a three-paneled screen by Kim Schmahmann, Apart-Hate: A People Divider (below), which documents in both grandly historical and touchingly personal terms the brutal system of apartheid that once ruled the races in his native South Africa.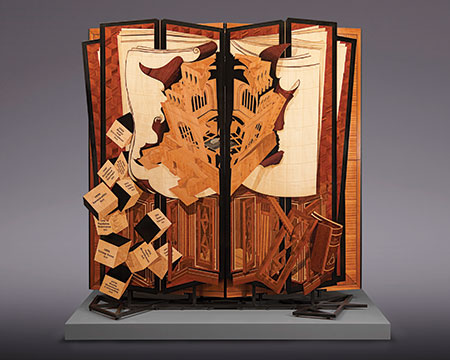 Photo: Jim Baxter

On one side, the artist has used beautiful hardwood veneers to create a marquetry version of a monument outside Pretoria that is dedicated to the Afrikaner pioneers—and often associated with apartheid. "It's all about illusion," said the artist, at a preview of the show a while back. "Because we were born into it," he said, apartheid seemed, like the monument, to be an ever-present, all-powerful fixture.
The other side of the screen shows the grimmer aspects of institutionalized racism: Newspaper articles that scream "God prefers apartheid"; keep-out signs applying to "natives, Indians and coloureds"; and racial identification cards that had to be carried under apartheid. The two cards on view, in a barbed-wire frame, were carried by two black women, Emily and Pauline, who had indirect connections to Schmahmann's family and whose passbooks were the inspiration for this piece, he said. While apartheid had ended by then, "I thought they served to be shown," he said. "I felt we've got to have something to remember the whole period."
The contrast between designer objects venerated in our culture and the anonymous workers who create them is explored in Terese Agnew's Portrait of a Textile Worker. Based on a photograph of a factory garment worker in Bangladesh, Agnew's immense work—it measures more than 94 by 109 inches—has been sewn together out of thousands of donated designer labels, backed by fabric.
If Agnew has made unusual use of labels, so does the well-known feminist artist Judy Chicago with tapestry in The Fall (woven by her longtime collaborator, Audrey Cowan). A large work central to Chicago's multimedia series on the Holocaust, it chronicles scenes of violence and patriarchal ascendance the artist sees as a source of the worst brutality.
While Chicago has a long history as an artist, Chuck Sharbaugh spent a good deal of his working life in hard construction and then fine cabinetry work. His "collector's cabinet," with its wood veneer scenes of airplanes and flight, "is just the second piece [of fine art] I ever made," Sharbaugh said.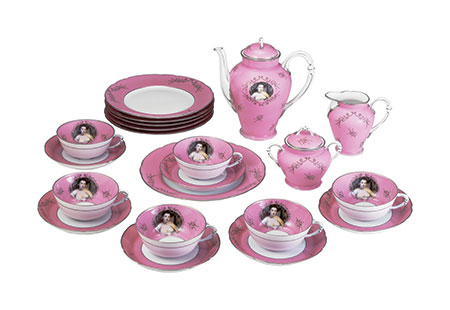 Madame de Pompadour (nee Poisson), 1990. Cindy Sherman. Ancienne Manufacture Royale Limoges Artes Magnus. Porcelain, glaze; photo-silkscreened. Photo credit: Courtesy of Lladró USA

The photographer Cindy Sherman, famed for adopting female persona in her work, peeks out at us as Madame de Pompadour, the mistress of the French King Louis XV, from a deep-pink porcelain tea set. The real royal mistress was, in fact, a lover of porcelains, and this color has its own name: "Pompadour Pink."
"Every work just could become an exhibition in itself, if you brought in other materials," McFadden said, his imagination already off and running. The Sherman tea set, for instance, could be accompanied by "a portrait of Madame Pompadour, and an original 18th-century tea service…"
With about 730 objects acquired in just the last five years, why not? Maybe in Re: Collection II?
---
The Museum of Arts and Design 2 Columbus Circle, 212-299-7777; madmuseum.org
---
Karin Lipson, a former arts writer and editor for Newsday, is a frequent contributor to The New York Times. Her last article in Promenade was on the Italian Futurists at the Guggenheim.