Sony Wonder Technology Lab
Get More Info on This Business
|
More Museums Listings...
|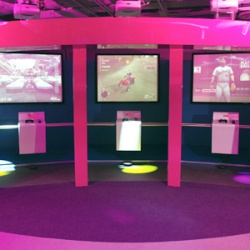 550 Madison Ave.
212-833-8100
www.sonywondertechlab.com
An interactive journey into the world of technology & entertainment with four floors of hands-on exhibits. Design a unique digital profile while you explore the inner workings of electronic devices, create an animated character, program a robot, and perform virtual surgery. Movie screenings, performances, workshops & special events. All exhibits wheelchair accessible & ESL tours available. Tues.-Sat., 9:30am-5:30pm. Closed Sun. & Mon. Last entrance 30 mins. before close. Admission is FREE. Advance reservations recommended.
GET MORE INFO ON:
SONY WONDER TECHNOLOGY LAB