Top-Dog Picks for Grooming and Doggie Dining
Back to the Blog... | Post Feedback | Author Bio | Printer-Friendly
Austin here, (like you couldn't tell, looking at my big wet nose), the top dog in the Katz household. I'm doing the blogging this week, as Mom is busy, getting ready to go to the GIANT Housewares Show in Chicago. She said she'd send back a few blogs about new and fab products she sniffs out in the Windy City. But in the meantime, I've got my fat mitts on the keyboard to tell you about a few other products I tested for Mom. As we said last week, we're still in a doggie state of mind, following the Westminster Kennel Club Show, so here are two things I really like:
The Wahl Kennel Pro Combo Kit (a 17-piece--yikes, woof!--grooming kit). Mom can always tell when I need to be groom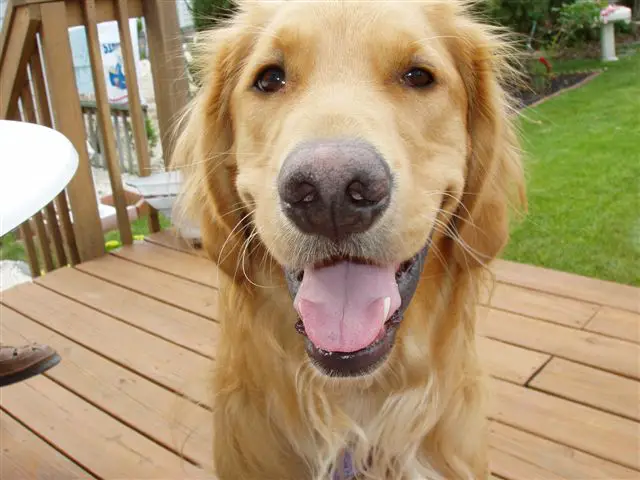 ed. For starters, on the bottom of my paws, I grow exploding clumps of fur in between my pads, ...and don't even ask what the tops of my paws look like-big, furry, blonde tufts erupt from my dainty webbed feet. My neighbor Paxil, the Cairn Terrier, says I look like I am growing fuzzy slippers on my feet. So, that's when we know it's time to get the paws clipped. Dum-da-dum-dum....I used to hate it. But now I love it with my new Wahl clippers.
Don't think you can use a people clippers, either. You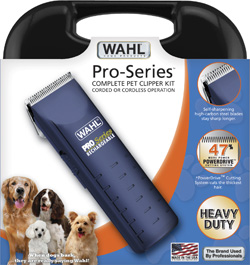 need a doggie clippers, as they are, in the words of my pal Mark, who is a top dog at Wahl, more aggressive with a dog's fur and they do the job more successfully, with their self-sharpening, high-carbon steel blades. So, we got the deluxe kit (shown here) and I highly recommend it. (Although I must admit, I don't use the mirror that comes with the kit--like what am I gonna' do with a mirror? But Mom uses it.) The clippers are rechargeable and do the job expertly, neatly, swiftly. I don't mind the buzzing and sort of like how it feels on my bod. We recommend all the Wahl clippers, as there are many models, priced from about $25 to about $160, for the fanciest (professional) model. And when my paws are all done, I have bee-yoo-tee-ful feet, like the big lions outside the New York Public Library.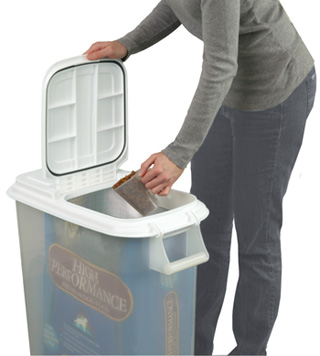 Next, I like my new ENORMOUS food bin--it holds SIXTY pounds! Mom says until she found this giant, heavy-duty bin, it was just such a pain storing my food because she buys in bulk and needs to keep my food fresh, handy, and protected. (For the record, I don't think we need to keep it protected, as I would like to get at it all the time...I've been known to be Houdini and climb on the window seat in order to get to the top of the refrigerator to eat chocolates from Maison du Chocolat. But that is another story.) Anyhow, Buddeez makes the very best containers for storing pet food. They are all cleverly designed, with wheels, handles, pour spouts, and safety-snap (airtight) lids--and, they are BPA-free, safe for food, obviously; and, the bins are transparent, so you (and I) can see how much kibble is left. (Oh, hello, do you want to torture me?) Well, Mom loves this new bin with its various easy openings, narrow footprint (for slipping into a tight space), and moreover, with the measuring cup that snaps in place on the underside of the lid. Woof! I agree. Now feed me.
Posted on March 12, 2010 - by
Browse: Favorite Finds

---
About the Author: About the Author: Ruth J. Katz is a well-known shopping and service writer based in New York City. She has written about shopping for 25 years for New York magazine; covered the topic on-air at Fox-TV for several years as the Home Services expert; and had her own show on both the USA and Lifetime Cable networks. Katz wrote extensively for The New York Times as well, and contributed periodically to the New York Daily News. She is a passionate shopper, always looking for not merely a good buy, but the best buy, ferreting out a "steal" or discovering up-and-coming designers. She has written five books and is a former contributing editor to Hearst's Redbook, Classic Home, and Colonial Homes; she is currently a Contributing Editor of New York Home, Golf Connoisseur, The Modern Estate, and Promenade magazines. She is also the former Shopping Director for Davler Media's Manhattan Living.


Recent Entries: