Doggone Good Cuddly Coats (and other stuff) for Dogs
Back to the Blog... | Post Feedback | Author Bio | Printer-Friendly
Austin Katz here, scribe extraordinaire when it comes to blogging about all things canine. It's finally my turn now, for two weeks, to talk about doggie prezzies that your furry friends are just panting and slavering for! I already got some really good stuff for Chanukah and now I am eagerly awaiting the rest of my loot for Christmas. What I really wanted was a new coat. (Well, what I truly want is cookie, co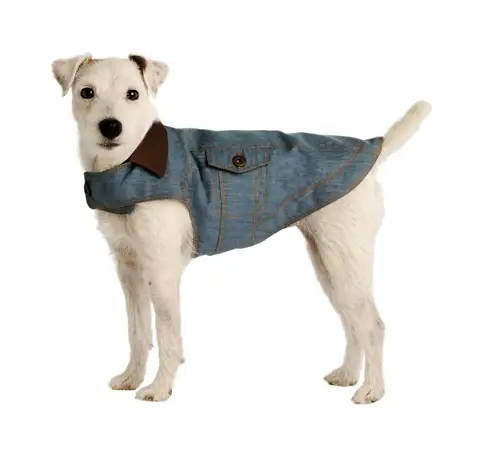 okies, cookies, but I'm pretty sure Santa and his elves are already baking them for me.) So, a natty coat, that would be cool. I know, I know. I am a double-coated dog, so do I really need a coat? Truth is, I really do not usually wear a coat, but in chilly weather like this, mom always puts a handsome sweater on me and since I want to be the picture of canine sartorial splendor, I am lusting for a coat from the Dog Gone Smart dog people.
What we-- mom and moi--love about their coats is that they are made of a very neat fabric, with something called Nano technology. What it means is that the outer fabric is more or less impermeable to the elements. There will be no wet dogs when the furry ones are wearing nifty quilted coats like these from Dog Gone Smart. The fabric repels liquids, dirt, coat oils, and yuchy stains, so unlike me, the coat stays clean. The fabric is abrasion-resistant and helps to reduce the spread of bacteria that can cause doggie "aroma" and which can also irritate allergy-prone pooches. I picked out one with a fleecy lining and a little corduroy collar and trim. Mom likes it 'cause it's washable and the fabric stays durable even through 50 washings.
The coats are available in 5 styles, 13 sizes, and 8 colors-something for everyone, including the little yappie dogs and the giant Bouviers and Great Danes. Sizing ranges from 8" to 32", and there are very cute silhouettes--accented with corduroy, leather, denim, and with linings in fleece or plaid flannel
There are other goodies from Dog Gone Smart, too. There are beds, in various sizes and styles-donut beds, puffy beds, more structured beds, and even crate pads. Many of the models use hollow-core slick fiber fill, which makes for a comfy place to plop down. Despite being sort of "form-fitting," the bed reb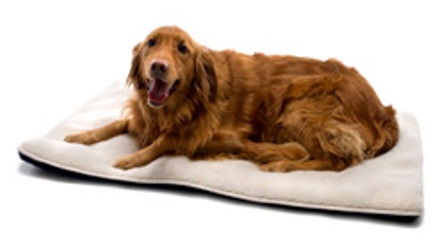 ounds into its original shape, when I leave it and go into the kitchen to reconnoiter. I like the crate pads, too....and speaking of which, I think I have to tell mom I need a new one.
There is also a cat bed (woof, woof), and the company makes equine wear, as well....perfect for the outdoors for paddock-lounging horses, since the Nano technology is in the blankets, too; it can keep all the Triggers of the world dry. Additionally, the horse blankets have special linings to absorb perspiration, preventing chills and overheating.
All in all, I'd say Dog Gone Smart pet products are pretty awesome. So, Santa, please remember me! (It's easy, Santa, just to go Amazon to do your shopping for me!)
Posted on December 09, 2010 - by
---
About the Author: About the Author: Ruth J. Katz is a well-known shopping and service writer based in New York City. She has written about shopping for 25 years for New York magazine; covered the topic on-air at Fox-TV for several years as the Home Services expert; and had her own show on both the USA and Lifetime Cable networks. Katz wrote extensively for The New York Times as well, and contributed periodically to the New York Daily News. She is a passionate shopper, always looking for not merely a good buy, but the best buy, ferreting out a "steal" or discovering up-and-coming designers. She has written five books and is a former contributing editor to Hearst's Redbook, Classic Home, and Colonial Homes; she is currently a Contributing Editor of New York Home, Golf Connoisseur, The Modern Estate, and Promenade magazines. She is also the former Shopping Director for Davler Media's Manhattan Living.


Recent Entries: