WellnessMats: Something To Stand On And To Stand By
Back to the Blog... | Post Feedback | Author Bio | Printer-Friendly
So, as "unsexy" as it is, this is the gift you should have gotten for Christmas! In fact, in the next few weeks, I'd like to show you a few things you should have received as gifts for the holidays, but most likely did not; and, actually, if anyone had put these items under your tree, you might well have beaned them (at first blush!), but after test-driving, you'd have been VERY grateful.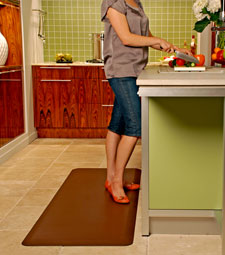 A WellnessMat is a -- well, a mat you stand on at the kitchen sink, or frankly, in any work area. Initially developed for workers who are on their feet a lot in professional settings -- in the health-care (think chiropractors) profession, beauty/salon/spa fields, hospitality industry, and the like -- the mats were created with health and comfort in mind. It didn't take long for other professionals to latch on to these mats: Think of airline personnel standing for hours behind a ticket counter, or salespeople in retail who are on their feet behind a cash register all day long. In fact, they are the mat of choice for the Department of Homeland Security and the TSA.
The use of the WellnessMat spread very quickly among pros and as the mats were adopted widely, the company decided to expand availability to the "civilian" population, so that they are now sold to consumers. And trust me, anyone who stands on his/her feet a great deal will ooh and aah with delight and surprise (as I did) when I first stepped onto a WellnessMat and felt that springiness underfoot.
The mats are built with a patented anti-fatigue technology, and according to CEO Dan Bouzide, they are proven to medically promote proper circulation and reduce fatigue; made with something the company calls Advanced Polyurethane Technology, WellnessMats' proprietary technology guarantees that these single-piece construction mats will never curl at the edges or delaminate; moreover, the mats deliver longevity and durability, resulting in WellnessMats' seven-year warranty.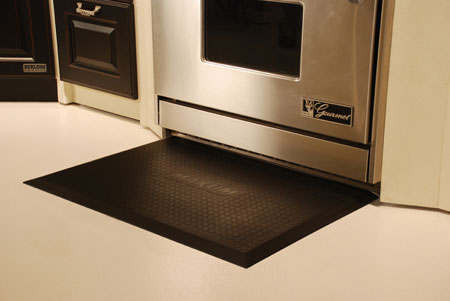 When I put one down in front of my kitchen sink, I couldn't get over the feeling of support and cushy comfort. My tired legs and bad knees felt light and rested. "Standing is believing," as the company motto states, and so it is. The mats are non-toxic and PVC-free, and are ergonomically engineered to provide maximum comfort, safety, fatigue-relief, and general well-being while you stand. They remain flat and "unrumpled" on the floor, and they stay where you put them -- and you won't trip on the mat, as it's got a beveled edge. They are also bacteria- and stain-proof, heat-resistant, and puncture-proof.
WellnessMats are ideal for the laundry room, kitchen, garage or basement workroom, home gym, potting shed, and so on. They range in price from about $125 to $300, and are available in about six colors (black and neutral earth tones), and various sizes, from 2' x 3' to 4' x 5' to 3' x 6' and now they are available in what the company calls "puzzle" mats, whereby you can latch together a few pieces to make a longer and bigger mat. In other words, there is a mat for every spot you'd want to put one in.
Posted on January 23, 2011 - by
Browse: Beauty: Spa & Bath | Beauty: Medical

---
About the Author: About the Author: Ruth J. Katz is a well-known shopping and service writer based in New York City. She has written about shopping for 25 years for New York magazine; covered the topic on-air at Fox-TV for several years as the Home Services expert; and had her own show on both the USA and Lifetime Cable networks. Katz wrote extensively for The New York Times as well, and contributed periodically to the New York Daily News. She is a passionate shopper, always looking for not merely a good buy, but the best buy, ferreting out a "steal" or discovering up-and-coming designers. She has written five books and is a former contributing editor to Hearst's Redbook, Classic Home, and Colonial Homes; she is currently a Contributing Editor of New York Home, Golf Connoisseur, The Modern Estate, and Promenade magazines. She is also the former Shopping Director for Davler Media's Manhattan Living.


Recent Entries: