Oooh-La-Oil: O & Co's Huile d'Olive
Back to the Blog... | Post Feedback | Author Bio | Printer-Friendly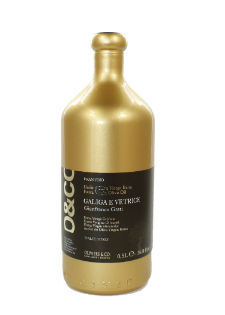 If you are enjoying the season's Jersey tomatoes along with mozzarella di bufala and basil fresh from the garden, not to mention if you're drooling over summer's seductive vegetables -- grilled to perfection -- and savoring aromatic bruschetta dripping with oil, then you definitely need to stock up on O & Co's amazing oils -- and vinegars, too. This company is young (14 years), compared to the age of the trees in the vineyards from which it hand-selects and "edits" its olives (not to mention, its other raw ingredients), but in that time, it's risen to the top of the heap.
This Provence-based purveyor offers a wide selection of exquisite olive oils from Spain, Italy, France, Greece, Croatia, Morocco, and Portugal. Additionally, there are vinegars, tapenades and spreads, luxurious truffle products, sauces, pastas, seasonings, and sweets -- things like olive chutney with lemon; Morello cherry preserve; porcini mushroom cream with truffle; artichoke tournure; leek and acacia honey; and those amazing olive oils.
These are not your mother's olive oils, but perhaps we could say that they are your grandmother's, and her grandmother's. These are not for the faint of heart or faint of pocketbook -- some of the most prized retail in the neighborhood of $50, which is, in truth, the going rate for a fine olive oil product -- and in this instance, the product is more than worth the price. "Delicious" doesn't do the oil justice. (Fear not there are also olive oil products in the $15 range.)
One product line worth singling out is the Rameaux D'Or Collection of fine olive oils, which are "guaranteed" to transform the average cook into a fine chef. (It doesn't hurt that even the packaging is tempting.) Produced with the olives from a small jewel of an orchard, a stone's throw from Florence (and where the trees average 70 years of age), the oil is intense, grassy, and zesty, with a long finish. Harvested just about a year ago, the Galiga e Vetrice from this collection is $48 for 16.8 fl. oz. O & Co's best-selling olive oil is basil-infused, aptly named Huile d'Olive au Basilic, and it's prepared according to a 16th-century process. The one liter can is $58, and the small 3.3. fl. oz can is $13. (Obviously, production is limited.)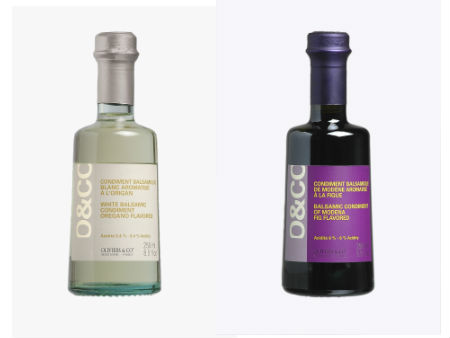 Also worth pointing out are the balsamic vinegars, produced in limited editions, as well. The Gold Balsamic Vinegar from Modena is the perfect component to pair with the Galiga e Vetrice. This is made with the best quality grapes from Modena and Reggio Emilia. It's slowly refined in wooden casks, until it reaches that perfect balance between sweet and tart. It's almost sinful to put it in your salad dressing, as it's so flavorsome you might even want to drizzle it on ice cream. There is also a fig balsamic, a white balsamic with oregano, and a cherry balsamic, among the many in the line.
And these products are all perfect for gift-giving -- welcome house presents, too, if you're going to be freeloading over Labor Day Weekend. You'll definitely be invited back if you bring one of O & Co's gorgeous gift sets!
Posted on August 22, 2011 - by
Browse: Eat, Drink, and Be Merry

---
About the Author: About the Author: Ruth J. Katz is a well-known shopping and service writer based in New York City. She has written about shopping for 25 years for New York magazine; covered the topic on-air at Fox-TV for several years as the Home Services expert; and had her own show on both the USA and Lifetime Cable networks. Katz wrote extensively for The New York Times as well, and contributed periodically to the New York Daily News. She is a passionate shopper, always looking for not merely a good buy, but the best buy, ferreting out a "steal" or discovering up-and-coming designers. She has written five books and is a former contributing editor to Hearst's Redbook, Classic Home, and Colonial Homes; she is currently a Contributing Editor of New York Home, Golf Connoisseur, The Modern Estate, and Promenade magazines. She is also the former Shopping Director for Davler Media's Manhattan Living.


Recent Entries: