Gettin' Steamy: Panasonic's Facial Steamer
Back to the Blog... | Post Feedback | Author Bio | Printer-Friendly
The cold weather finally descended upon us this week...after that little burst of springtime over the weekend. And not a minute too soon -- just in time for you to ask Santa to bring you one -- comes Panasonic's Ionic Facial Steamer. The company says that the machine uses nano-sized particles that penetrate deeply into the skin to hydrate it, focusing obviously on the delicate skin of the face. The nano-particle steam, which is 4,000 times finer than average steam, helps moisture to penetrate more deeply into the skin, opening pores for a thorough cleansing. Most of us opt for facials to exfoliate the layer of dead skin cells, to extract the "bad stuff" that gets into the pores, and to cleanse, rejuvenate, and hydrate...and here is a machine that can help you do it.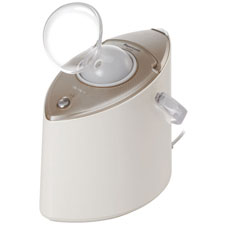 Over time, we all know (and can see) that skin loses elasticity, and just doesn't renew itself the way the soft skin on a baby's face does. The loss of elasticity and the inability to retain moisture ultimately causes wrinkles -- not to mention what sun exposure does! The company claims that with regular use, your skin will be stimulated so that the appearance of the fine lines is diminished; after 4 weeks of daily use, the Panasonic Facial Ionic Steamer, they say, has been clinically shown to improve wrinkles, skin texture, luster, and moisture. I tested it for two weeks and thought it made my skin feel softer and look fresher.
The machine is a little pricey at the suggested retail of $399.99 (so warn Santa), but if it means you can skip a monthly facial, then it pays for itself in no time at all. You may opt for two or three professional facials a year and then use the steamer for your at-home treatments the rest of the time, which would be a great compromise, saving you a ton of money for those salon facials.
It's available at Hammacher Schlemmer, where I noticed it is selling for $299.95! A HUGE savings! Obviously, it's available elsewhere, but this is a GREAT deal!!! And just remember, it will be perfect for caring for sun- and wind-dried-out skin. Give yourself a new glow for the new year...and stay tuned, 'cause in January I will write up (am testing now) some skin care creams for the cold and the foul weather.
Posted on December 02, 2011 - by
Browse: Beauty: Makeup & Skin Care | Beauty: Spa & Bath

---
About the Author: About the Author: Ruth J. Katz is a well-known shopping and service writer based in New York City. She has written about shopping for 25 years for New York magazine; covered the topic on-air at Fox-TV for several years as the Home Services expert; and had her own show on both the USA and Lifetime Cable networks. Katz wrote extensively for The New York Times as well, and contributed periodically to the New York Daily News. She is a passionate shopper, always looking for not merely a good buy, but the best buy, ferreting out a "steal" or discovering up-and-coming designers. She has written five books and is a former contributing editor to Hearst's Redbook, Classic Home, and Colonial Homes; she is currently a Contributing Editor of New York Home, Golf Connoisseur, The Modern Estate, and Promenade magazines. She is also the former Shopping Director for Davler Media's Manhattan Living.


Recent Entries: