The Art of Craft: The SOFA Show at the Armory
Back to the Blog... | Post Feedback | Author Bio | Printer-Friendly
Every year it is with great pleasure that we herald the SOFA Show staged at the Park Avenue Armory, and this year, marking the exhibition's 15th year, is no exception -- the only difference is that the show keeps getting better and better with every incarnation. SOFA is not about furniture -- divans and recamiers. It is the acronym that stands the Sculptural Objects & Functional Art Fair, a visual extravaganza for outstanding, cutting-edge, and contemporary decorative arts and design. The show will feature the work of more than 600 major artists, from several dozen galleries/dealers, from a dozen countries, all displaying some of the most remarkable work, including jewelry, fiber art, glass, wood, ceramics, paper, and who-knows-what-else.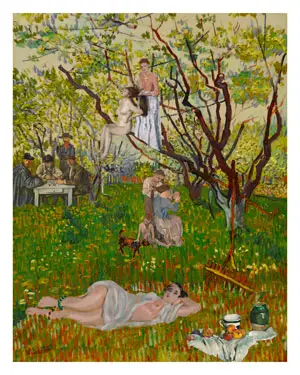 This is a serious show for collectors, but it's also a magnet for browsers who want to be educated and for shoppers who might want to pick up, say, a one-of-a-kind "statement" pieces: Beaded-bead necklaces from German jewelry designer Axel Russmeyer; or museum-quality glass sculpture from the important glass artists handled by the Heller Gallery; or at Ferrin Gallery, Lucy Feller's fanciful photo assemblages that tell a family history or celebrate a personal milestone -- or something from her latest collection of works which explore the theme of "coveting" (at right).

This year there are new international galleries presenting their artists, including Cultural Connections CC from Missenden, England, a gallery that specializes in Danish ceramics; Erskine, Hall & Coe, dealers in 20th century and contemporary ceramics, including the works of Lucie Rie and Hans Cooper, from London's Mayfair; Flow Gallery, also from London, showcasing Henk Wolvers, whose Lines porcelain piece was recently purchased for the Victoria & Albert Museum; and the Megumi Ogita Gallery, from Tokyo, which represents young Japanese and American artists who are known for working with traditional materials in startling new expressive forms.
Returning exhibitors include the Ferrin Gallery (Pittsfield, MA), the TAI Gallery (Santa Fe, NM), Sarah Myerscough Fine Art (London), Duane Reed Gallery (St. Louis, MO); Heller Gallery (New York); Jane Sauer Gallery (Santa Fe, NM); Lacoste Gallery (Concord, MA); Scott Jacobson Gallery (New York); Wexler Gallery (Philadelphia); and William Zimmer Gallery (Mendocino, CA). Jewelers are plentifully represented, as well, and there is always stunning work (and fabulous vintage, collectibles, as well).
As always, cutting-edge international art jewelry will have a strong presence; expect to see wonderful, innovative jewelry from dealers like Charon Kransen Arts (New York City), Ornamentum (Hudson, NY) and Sienna Gallery (Lenox, MA).

The show will run from Friday, April 20th to Monday, April 23rd; Thursday evening, the 19th, the Armory is open to invited guests only, from 5 p.m. to 7 p.m., but from 7 p,m. to 9 p.m., it is open for a paid preview ($100 tickets, available on line and at the door). Throughout the four days, special events, tours, and lectures will be staged. The lectures are on Friday and Saturday, when noted artists, curators, and collectors will present illustrated talks in the Tiffany Room; admission is included with a valid SOFA ticket unless noted otherwise).
General exhibition hours: Friday, April 20th, 11 a.m. to 7 p.m.; Saturday, April 21st, 11 a.m. to 6 p.m.; Sunday, April 22nd, 11 a.m. to 6 p.m.; Monday, April 23rd, 11 a.m to 5 p.m. Tickets are $25 for a single day of general admission and $40 for a four-day pass; both ticket prices include the catalog (quantity permitting). For general information, visit www.sofaexpo.com; call 800-563-SOFA (7632) or 312-587-7632.
Posted on April 16, 2012 - by
Browse: Art

---
About the Author: About the Author: Ruth J. Katz is a well-known shopping and service writer based in New York City. She has written about shopping for 25 years for New York magazine; covered the topic on-air at Fox-TV for several years as the Home Services expert; and had her own show on both the USA and Lifetime Cable networks. Katz wrote extensively for The New York Times as well, and contributed periodically to the New York Daily News. She is a passionate shopper, always looking for not merely a good buy, but the best buy, ferreting out a "steal" or discovering up-and-coming designers. She has written five books and is a former contributing editor to Hearst's Redbook, Classic Home, and Colonial Homes; she is currently a Contributing Editor of New York Home, Golf Connoisseur, The Modern Estate, and Promenade magazines. She is also the former Shopping Director for Davler Media's Manhattan Living.


Recent Entries: