Bill Pullman to Join the Cast of The Other Place
Back to the Blog... | Post Feedback | Author Bio | Printer-Friendly
Seems like breaking news on & about the Great White Way is in the stars as much as freezing temps are in the weather reports. The latest scuttlebutt concerns Sharr White's brilliantly acted, directed & designed drama The Other Place, running at MTC's Samuel J. Friedman Theatre.

According to an announcement released today, Daniel Stern, who gives a achingly moving performance as Ian, Juliana's (Laurie Metcalf) husband, will be leaving the production a month early "due to family matters in California." His final performance will take place on Sunday, February 3rd.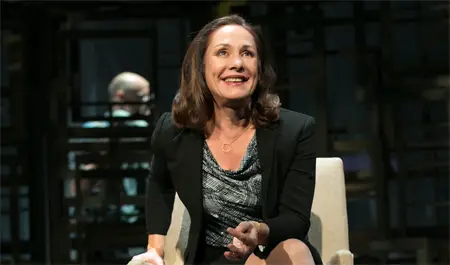 Laurie Metcalf in The Other Place. Photo: Joan Marcus.
Stepping in for Stern is Bill Pullman, whose NYC stage work includes Edward Albee's The Goat, or Who Is Sylvia? (Drama Desk Award nomination) and Peter & Jerry. His last Broadway appearance was opposite Julia Stiles in David Mamet's Oleanna.

Having seen & loved the play -- it's way up on my favorites list already with no chance of losing stature thanks to Metcalf's fearless layered performance as a woman locked into a mystery she can't seem to escape -- I cannot think of another actor more suited than Pullman to take over this particular role.

Pullman's first performance is Tuesday, February 5th and I will definitely try to catch his take on the role before The Other Place ends its extended limited run on March 3rd. Rarely do I have such a compelling reason to revisit a production this amazing.
Posted on January 25, 2013 - by
Browse: Hollywood on Stage | Broadway

---
About the Author: City Guide Theatre Editor Griffin Miller moved to New York to pursue an acting/writing career in the 1980s after graduating magna cum laude from Case Western Reserve University in Cleveland, Ohio. Since then, she has written for The New York Times, For the Bride, Hotels, and a number of other publications, mostly in the areas of travel and performance arts. She currently is the theatre and spa editor for Promenade Magazine as well as theatre editor for all NYMetroParents publications. An active member of The New York Travel Writers Association, she is also a playwright and award-winning collage artist. In addition, she sits on the board of The Lewis Carroll Society of North America. Griffin is married to Richard Sandomir, Sports Media reporter for The New York Times.


Recent Entries: