Crackerjack Union Jacks! Fun Accessories with British Flair
Back to the Blog... | Post Feedback | Author Bio | Printer-Friendly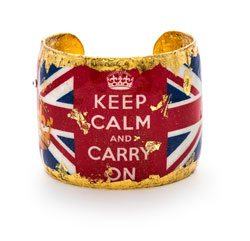 I was having a fuzzy, warm feeling about all things British (which is always an easy frame of mind for me to slide into) when I wrote about the fabulous Hollywood costume exhibit the Victoria & Albert Museum at the end of year. (And if you were in London at the time, then I hope you got to see it—it was truly spectacular.) With Great Britain firmly on my mind, I reminded myself that I had taken pictures at a trade show of the fun and lively jewelry of Barbara Ross-Innamorati of Evocateur, and decided it would be the next blog...but then Fate interfered in the form of shoulder surgery, which put an immediate end to typing for a while.
But, as they say, "We're back!" The recovering appendage is finally agreeable to typing, so we can now share Barbara's stunning bracelets. This jeweler has an interesting background and came to jewelry-making through the proverbial back-door, from the London School of Economics (LOL). Well, not exactly. But she did attend the renowned school, and while in the UK, she saw an exhibit of gold-worshipper Gustav Klimt and the images, resplendent with all that luscious, rich gold stayed with her for years. "Since that time, I have been passionate about and fascinated with gold leaf -- the way it can transform even the most ordinary of objects into something extraordinary, almost magical."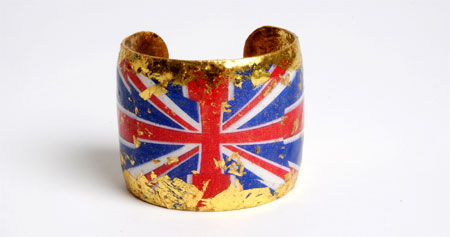 After dumping corporate America (corporate finance/investment banking/mergers and acquisitions, she notes), she was hunting for the just-right jewelry to wear with an ensemble and couldn't find what she wanted...and that need led to her experimentation with the gold leaf she so loved, and so, for 18 months, she doggedly pursued how to make the kind of jewelry she'd want. Et voila! Evocateur, her company, was born.
Today she sells a gorgeous line that includes some of my favorites, her British-inspired jewelry. Apparently I am not the only one with favorites from her line; her pieces also tickle the fancy of countless buyers from around the globe, as she sells not only to well over 100 outlets in the States, but also to such far-flung destinations around the world as Russia, Portugal, Panama, and even tiny Cyprus.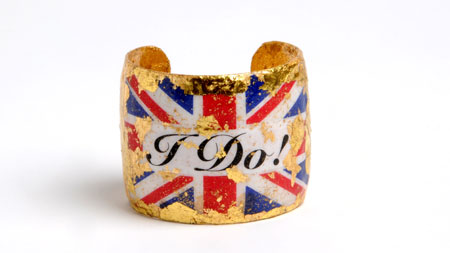 All her pieces are made in America, in her workshop in Connecticut. She continues to produce head-turning jewelry, heavily laden with that delicate, burnished gold, in 22kt. A more exotic collection, Humphrey's Safari, was inspired by a trip to Africa and named for her guide. (A portion of the proceeds from that collection goes to support a school in rural Zimbabwe.) Most cuffs range from about $220 (for the narrower, less elaborate ones) to about $340, for the wider, more involved ones.
Before signing off on things British, I must send you to the site Unique Vintage, which sells the most eclectic things you'll ever find on one Web site: a baby pacifier with a funny mustache attached to it; prom dresses and evening clothes; a pizza cutter; a stamper for imprinting toast, with a picture of the Eiffel Tower, called (rather cleverly) "French Toast Stamper"; luggage tags; swim suits; and Lord only knows what else you'll find!

It's an odd and interesting agglomeration of goods, but among the sundry offerings are a few things British and they are adorable: There is the little flask, convenient for a sporting event or just plain old travel ($26); a charming felted-wool handbag, with the Union Jack and a heart on it ($99). And, of course, there is an umbrella ($14.50) with the famous British flag on it. I have no clue what else you'll find if you jump around the site, but I guarantee an interesting time perusing it. Prices are reasonable, and it's a great site to plumb for novelty gifts, as well.
Posted on February 19, 2013 - by
Browse: Accessories

---
About the Author: About the Author: Ruth J. Katz is a well-known shopping and service writer based in New York City. She has written about shopping for 25 years for New York magazine; covered the topic on-air at Fox-TV for several years as the Home Services expert; and had her own show on both the USA and Lifetime Cable networks. Katz wrote extensively for The New York Times as well, and contributed periodically to the New York Daily News. She is a passionate shopper, always looking for not merely a good buy, but the best buy, ferreting out a "steal" or discovering up-and-coming designers. She has written five books and is a former contributing editor to Hearst's Redbook, Classic Home, and Colonial Homes; she is currently a Contributing Editor of New York Home, Golf Connoisseur, The Modern Estate, and Promenade magazines. She is also the former Shopping Director for Davler Media's Manhattan Living.


Recent Entries: